( To book speed ferry to islands, please select before "FERRY" on the  form below and than select from Sihanoukville to Koh Rong or other destinations, or contrary. Or use this form to book transfers in Cambodia)
In the US poker players seem to really be brought to reality shows. Anna Khait is just the latest to be joined the cast of Survivor, where it has already been noticed for his talent. Before she had participated in the JR Bellande program.
Considering the success you have always had numerous reality TV in the US, it is not surprising that much if over the years have found glory in these TV programs also known representatives of the poker world. Specifically Survivor proved an excellent environment for poker pros. For the uninitiated, we're talking about a famous format born in 2000, which was also proposed in Italy in 2001.
The last in order of time, to be entered in a television cast is Anna Khait, 26, of Russian origin who calls himself a poker pro and who also works as a correspondent for Poker Tube. The beautiful Anna debuted in these days in the 32nd season of Survivor, proving once it can be a big part of the show.
Anna helped his team to win and has made friends with two very cute girls … not for nothing that make up the Beauty team. The opposing teams by the time they call Brains and Brawn. The castaways are to be precise in Koh Rong, an island off the coast of Cambodia.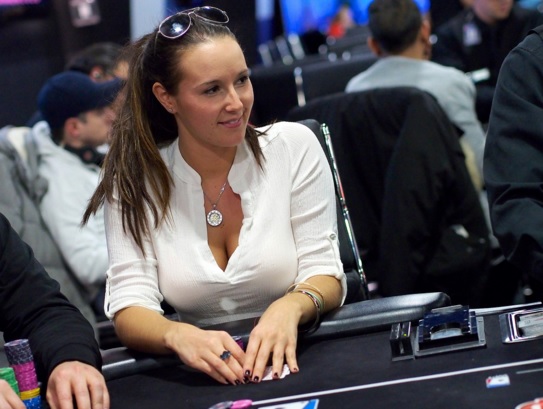 In 2007, Jean-Robert Bellande was measured with physical evidence in the Asian continent, in the edition 'Survivor: China'. That time Bellande was eliminated in the eighth episode, about half of the course. We'll see if this time Khait will do better …
It must be said that the Khait decided to initially hide the his poker skill. Here's what he revealed before the program: "I have not told anyone that I do the poker pros. I do not want to know that the strategy is part of my job. I said only that I work at the Borgata. In this way they underestimate me. "
To be honest Anna can not boast some kind of curriculum, at least with regard to tournaments according to HendonMob. He hit some placement at the Borgata but nothing special. Perhaps it is more ferrata in the cash game. His photos however are never snuck into the poker …
We can not close without first mention another experience, very recently, a poker player on TV. Last summer, in fact Vanessa Rousso gave the show to Big Brother, for which she also gave up at the WSOP. It looked like the big favorite to win but made 'the bubble' finishing third. We wish the Khait not to go the same way as it is for her to be won 1 million dollars!
➡️BOOK SPEED FERRY (click here)⛴